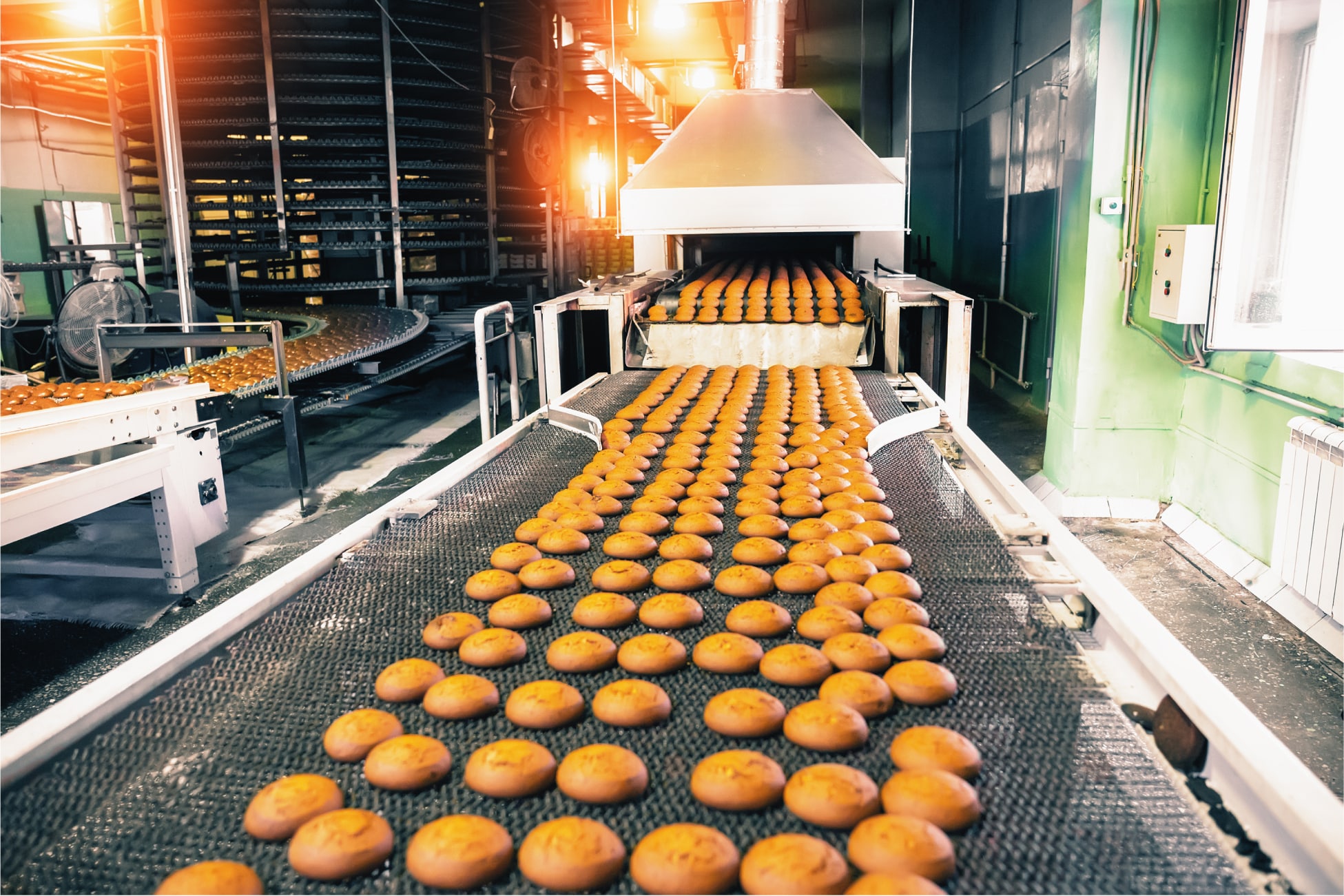 Fire protection for the food industry
Keep fire out of food processing
The food industry has a wide range of processes that involve both heat and dry materials, making them susceptible to elevated temperatures and fire. Some ingredients are at particular risk of combusting, such as cacao, sugar, flour and milk powder, to mention a few. Firefly's Spark Detection and Quick Suppression Systems are available in stainless steel suitable for installation on food processing lines.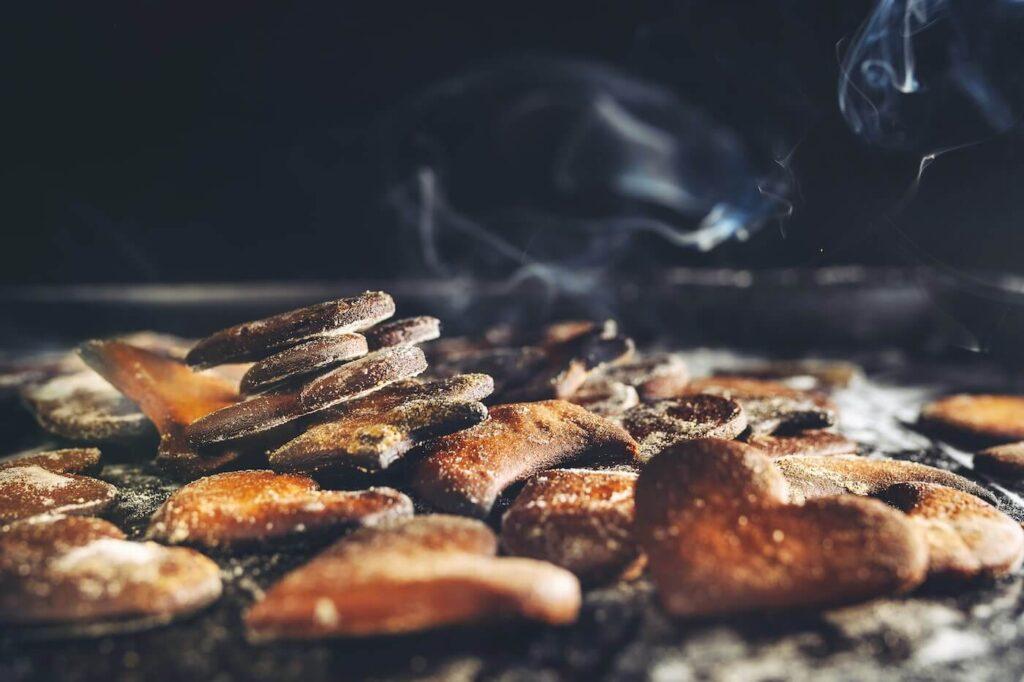 200
degrees C – the ignition temperature of wheat
48%
Percentage of dust fires and explosions that involve food products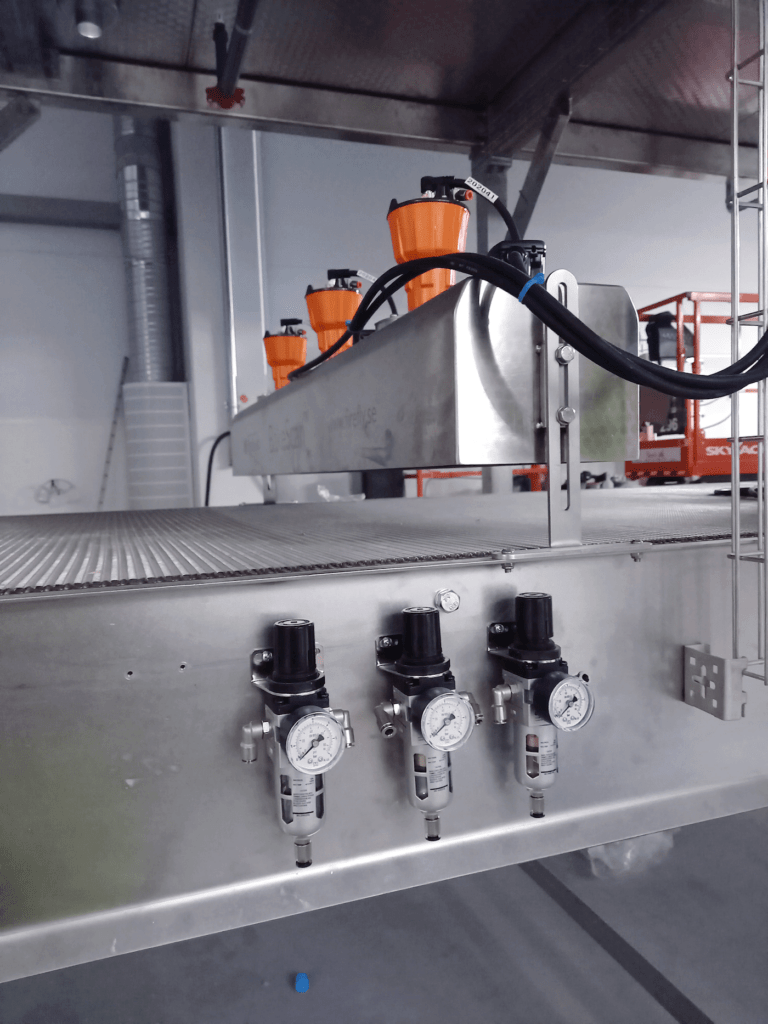 Dry materials and high temperatures – a combustible mix
The food industry contains a wide range of processes, many containing fine and dry materials in combination with high temperatures. Materials can ignite within the process causing fires with damage to plants and production loss as a result.
Firefly provides systems that detect heat sources which build up inside machines and process streams, as well as in open areas around machines. Any emerging fires are extinguished rapidly using water mist, before the fire has a chance to spread.
Increasing awareness of dust explosion prevention
Strict standards control the design of many types of food processing machinery. Our systems also comply with these standards, offering components in stainless steel and other materials compatible with operation in the food industry.
Firefly offers fire protection through Spark Detection and Quick Suppression Solutions by using IR-radiation detection and flame detection in combination with water spray extinguishing and water mist suppression.
The explosion and subsequent collapse of a 40 meter high grain silo in Blaye, France, in 1997, with the loss of 11 lives, woke the European food industry up to the hazards posed by combustible dust.
In 2008, an explosion at the Imperial Sugar Company in Port Wentworth, Georgia in the United States, was an alarm bell in a similar way for the food industry in North America. The incident caused a devastating fire that killed 14 people and injured 38 others.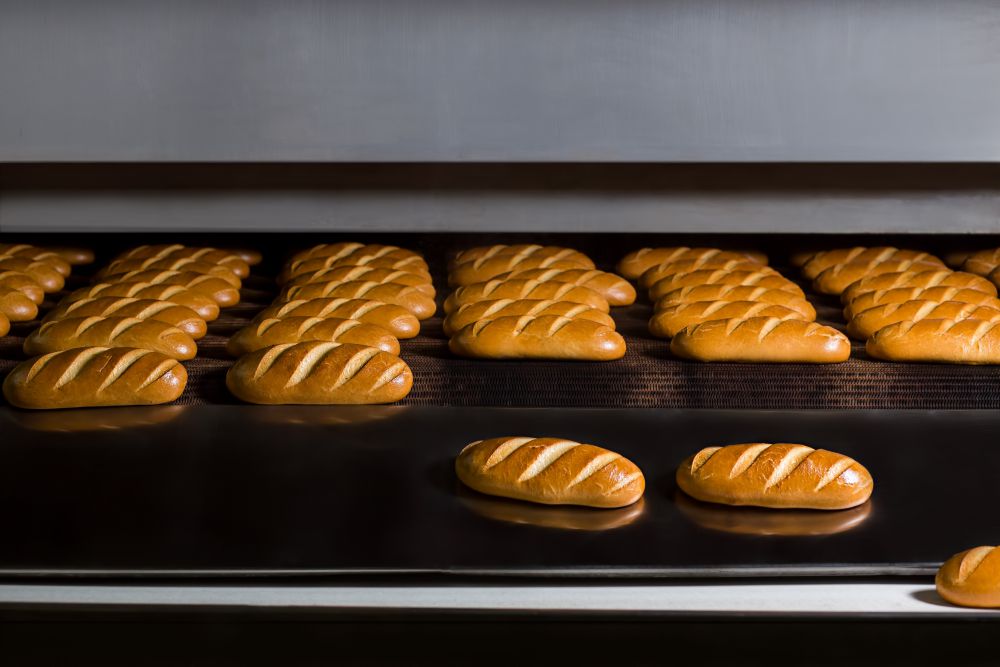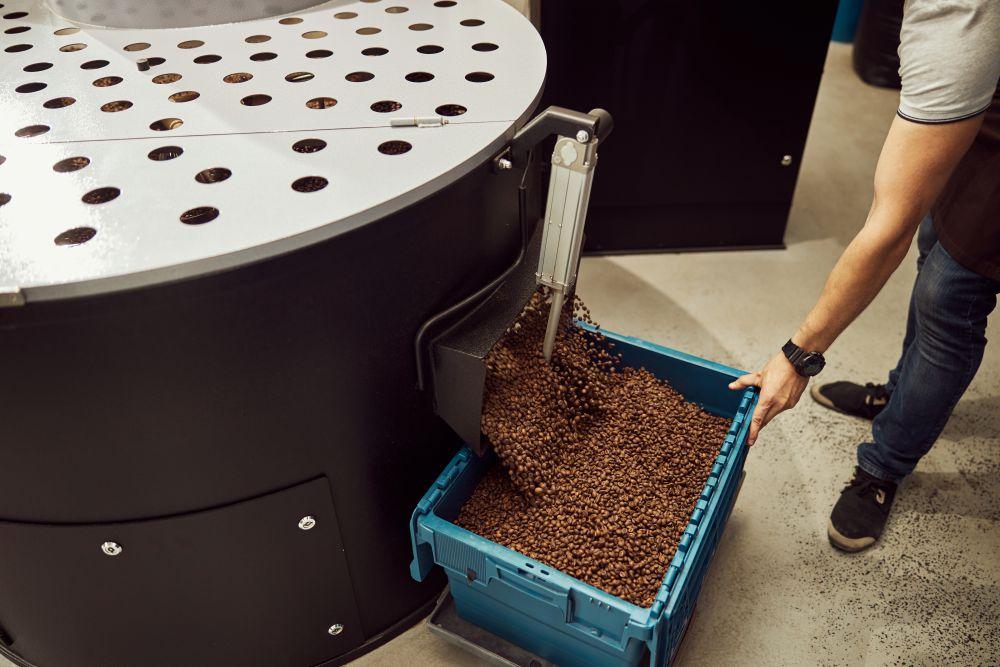 Flour explosion and sugar dust explosion potent hazards in the food industry
Food items are a leading cause of combustible dust fires and explosions. According to US-based organization Dust Safety Science, food products were involved in 48% of dust fires and explosions in 2020.
Several common materials in the food industry have the potential to form combustible dust that can cause explosions with very high energy. For example:
• Wheat has an ignition temperature of 200°C in a 5 mm dust layer and 420°C in a dust cloud
• Sugar has an ignition temperature of 220°C in a 5 mm dust layer and 350°C in a dust cloud
Bearing in mind that hot items below 650°C are not perceived by the human eye to be glowing, the ignition temperature for these common food items is relatively low.
Custom solutions for the food industry
Firefly BakeScan™
Firefly BakeScan™ solution is designed to detect overheated, glowing or burning products on transport bands of baked products being transported out from the oven, for example biscuits, tortillas, baked crisps, bread and cereals.
The system can be completed with quick acting water mist suppression. Water mist suppression enables the process to continue without warping the belt and avoids temperature stress on the cooling belts which can be very expensive to replace.
The Firefly BakeScan™ solution is an extremely flexible system and can be adapted to any process within the baking industry.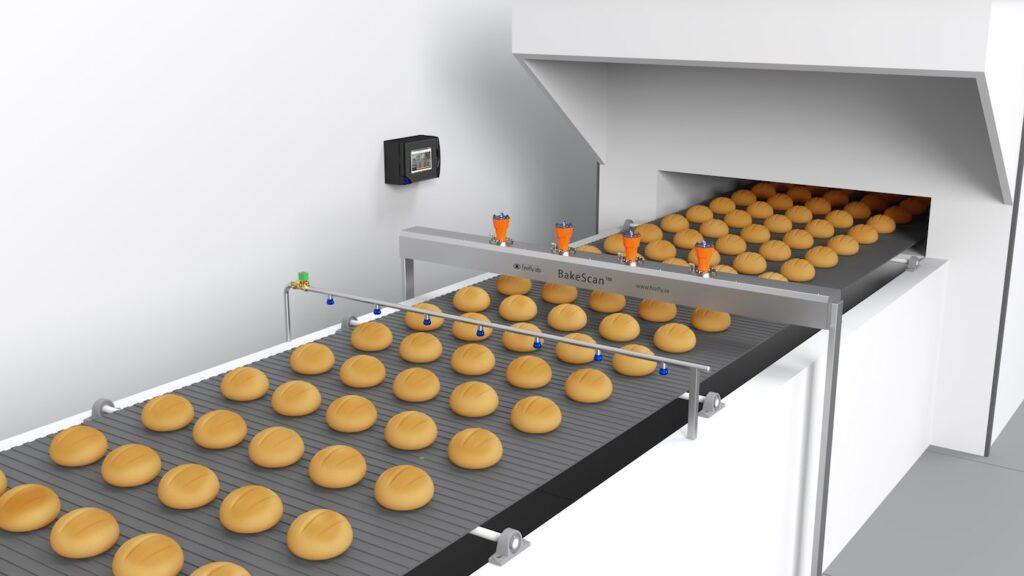 Firefly OvenGuard™
Firefly OvenGuard™ solution is designed for early detection and suppression of fire problems in the oven, at the outlet of the oven, and to suppress embers and flames in the extraction ducts. This by using a full automatic, high speed detection and suppression system. Both quick acting water mist suppression and full-cone water spray extinguishing can be used depending on the system design.
The Firefly OvenGuard™ system is extremely fast and the systems are designed to provide optimal safety against fire with
minimal effect on machinery or production. The Firefly system is flexible and from a range of unique products the solutions are customized for each application.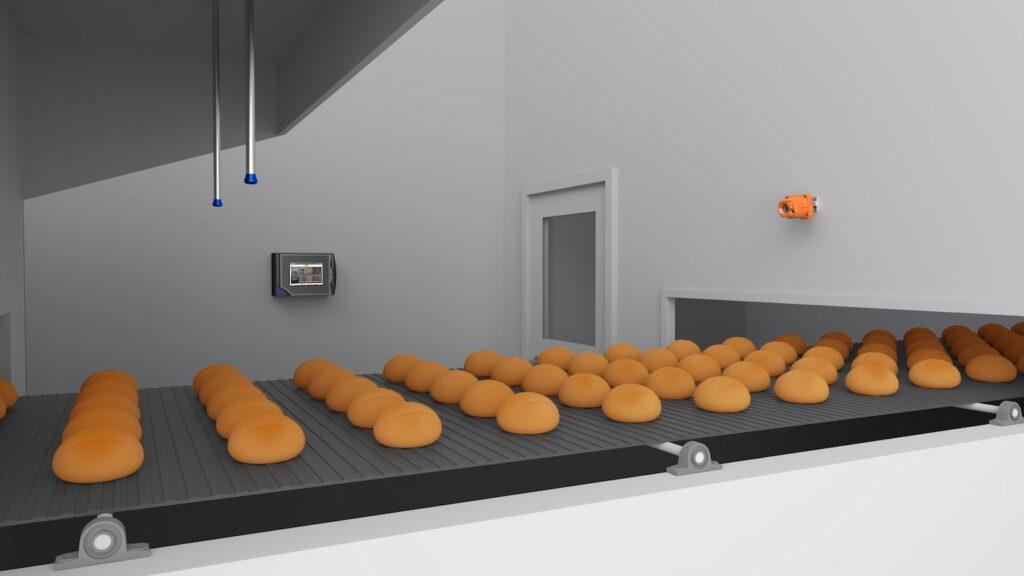 Key benefits
Quick System Response Time
Minimum Water Usage
Third Party Approved System
Precision Detection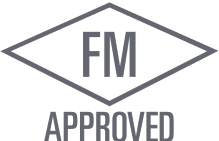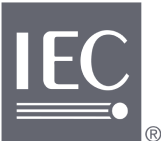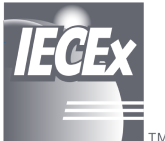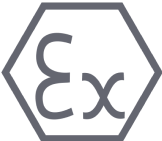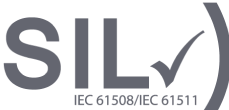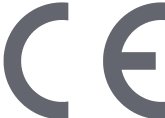 Safe and certified for your industry. Read more about our certifications and approvals here.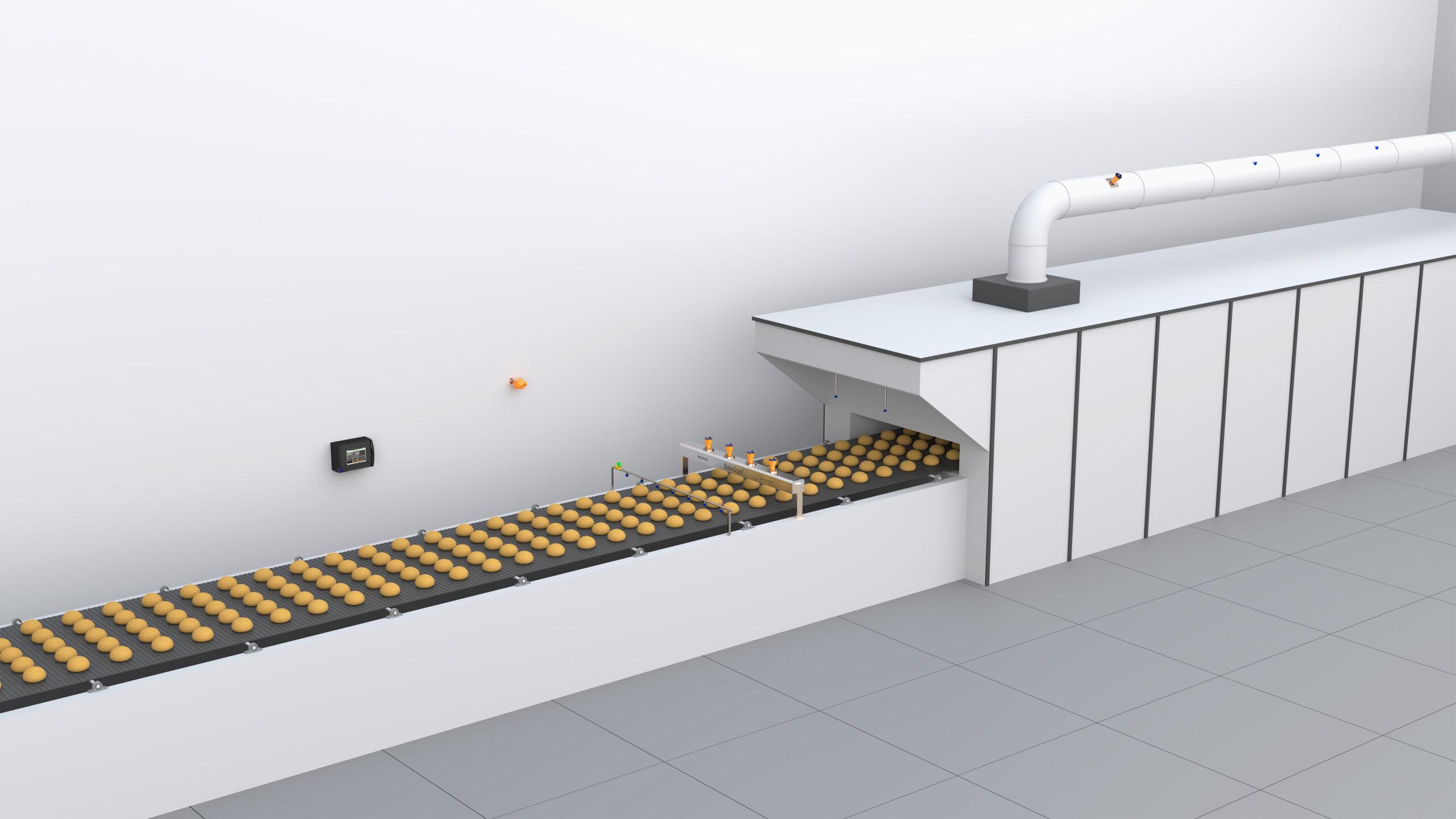 Unique Fire Protection Solutions for the food industry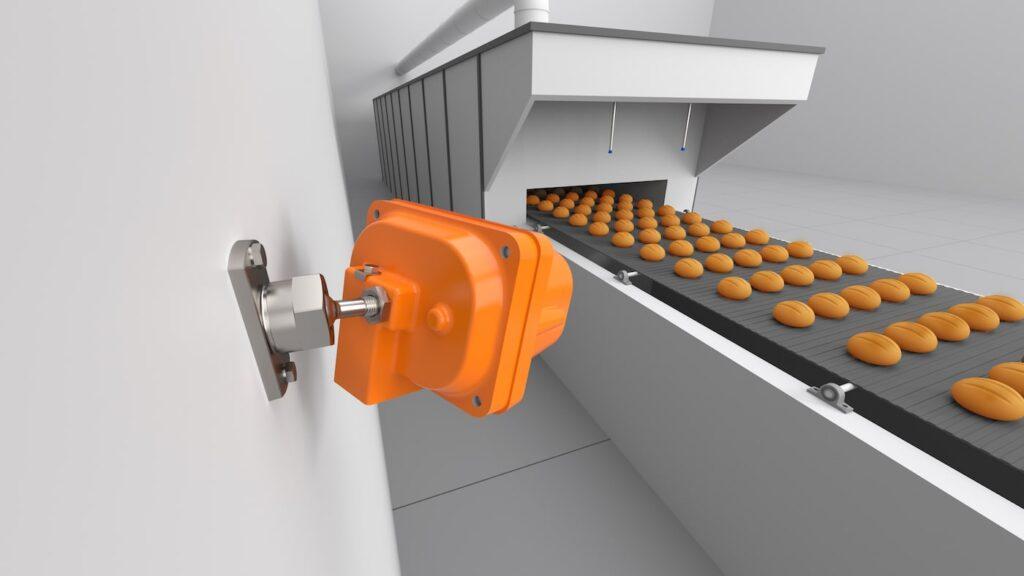 ULTRA QUICK SYSTEM RESPONSE TIME
Firefly's BakeScan™ solution is a Quick Suppression System designed to detect and extinguish glowing pieces and flames on transportation belts of baked product processes, including biscuits, tortillas, baked crisps, and cereals.

FULL-CONE WATER SPRAY EXTINGUISHING
Powerful extinguishing with a unique nozzle design and placement aimed to penetrate and cover the entire material flow. Activated within milliseconds after detection.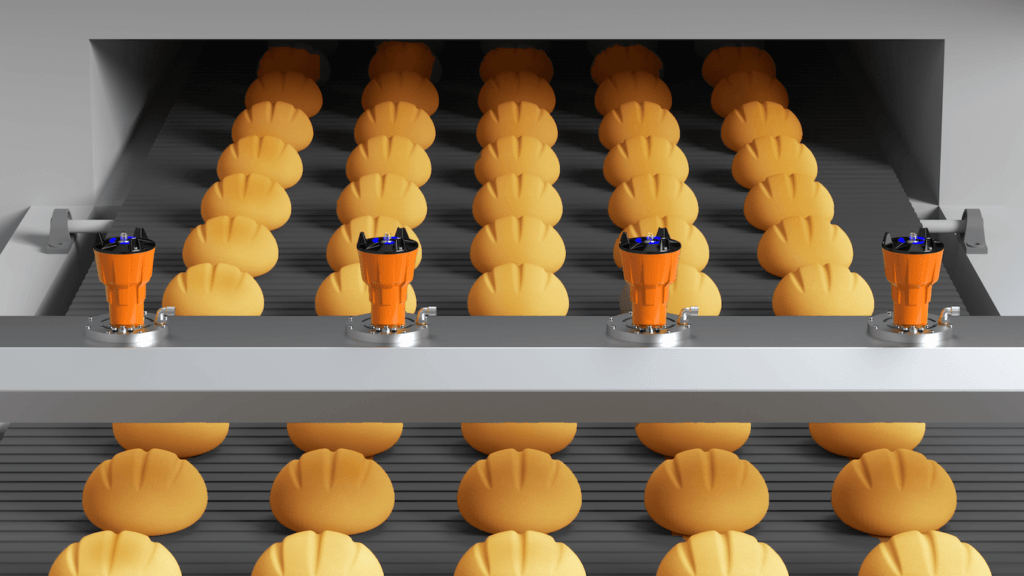 PRECISION DETECTION
The True IR Spark detectors enable Precision Detection of ALL types of ignition sources such as hot black particles, glowing embers, and sparks. The detectors are insensitive to daylight. Systems are also equipped with Multi-Channel flame detectors using advanced algorithms for Precision Detection of flames with high immunity to false positives.

EXCELLENT SUPPRESSION CAPABILITIES
The Water Mist System with fire-tested and verified extinguishing capabilities utilizes very small amounts of water resulting in less impact on machinery, minimized production loss and down time.
Downloads
Firefly BakeScan™ and OvenGuard™
Keeping industry leaders safe
KONSTANTIN ČERNYCH
Project Manager
Grigeo
"The installation of the Firefly systems has brought safety to the operators.
Before, we had to be very observant and we knew that our reaction was crucial for the handling of incidents. Now we can rely on the Firefly Fire Protection System."
NICOLAS AL HOUAYEK
Corporate manager
Acme corp
"Firefly has been on our side since day one, we have worked with their team during the project definition to get the best ratio between risk management and CAPEX optimization. Firefly keeps our people safe while we concentrate on improving our performance standards in the alternative fuel industry."
LEENDERT-JAN VAN DER HOUT
Project Engineer
Cérélia
"With the Firefly System an early detection of hot particles leads to immediate extinguishing and prevents the build up of a fire. Since the system was installed, Cérélia has had numerous detections but no fires."